1 more "Huang Danian Style Teacher Team of Universities in China"
Date:
2022-03-03
Page Views:
10
Recently, the Ministry of Education announced the list of "Huang Danian Style Teacher Team of Universities in China". The "Plant Developmental Molecular Biology Teacher Team" led by Professor Xiansheng Zhang at Shandong Agricultural University (SDAU) was included on the list of 200 teams from hundreds of colleges and universities in China. This is also the second teacher team of SDAU to win this honor after the "Wheat Genetic Breeding and Cultivation Technology Innovation Teacher Team" was selected into the first batch in 2018.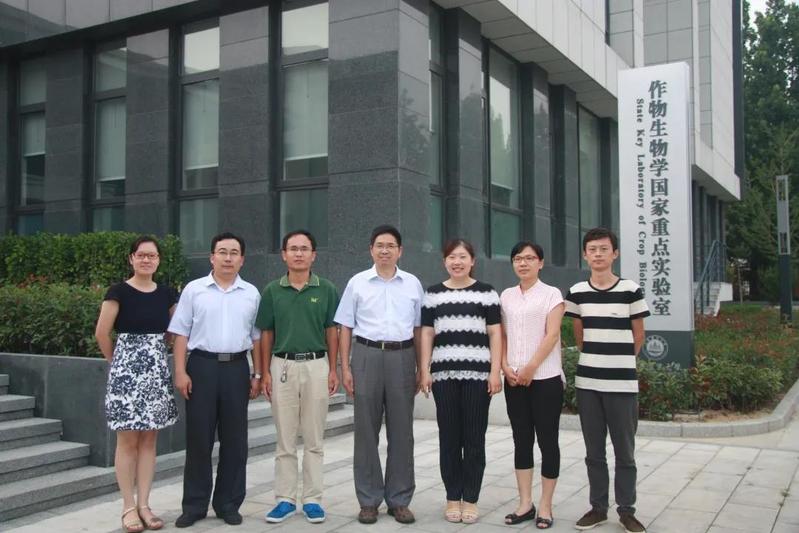 Some members of the team led by Prof. Xiansheng Zhang

Upholding the fundamental task of strengthening moral education and cultivating people, the "Plant Developmental Molecular Biology Teacher Team" of SDAU attaches great importance to building the students' ideological and moral qualities and guide them to become a new generation with both academic skills and noble sentiments. A steady research team with clearly defined orientation and the capability of undertaking key national scientific and technological research projects has been forged gradually in the process of completing key national and regional scientific research projects over the years. Based itself on the State Key Laboratory of Crop Biology, the Team focuses on the research of high and new technologies of the plant stem cell regulation of crops, fruit trees and trees. Focusing on the state major strategies and local economic and social development, the Team is mainly involved in the basic research and applied research in molecular mechanisms of plant stem cells, meristem formation and maintenance, organ development, plant cell totipotency, and plant biotechnology breeding.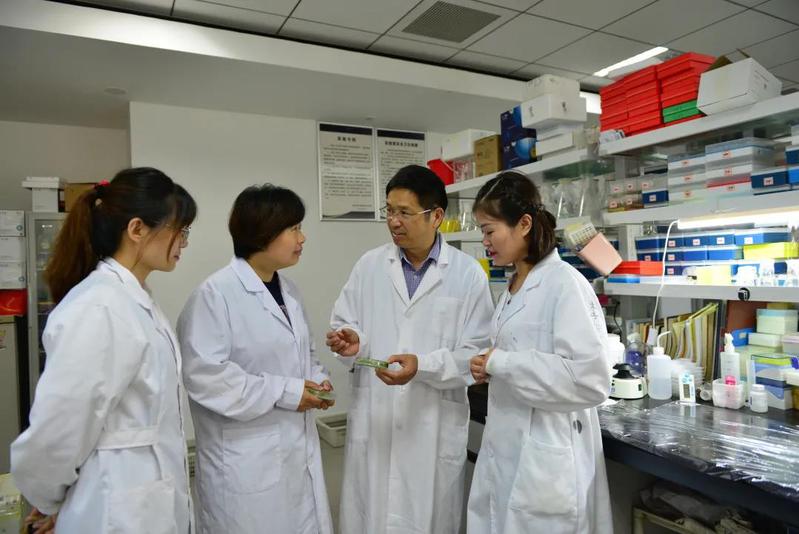 Prof. Zhang (the second on the right) instructs some team members to discuss the fine acquisition method of stem tissue from WUS marker plants.

The team is an excellent representative of the school's teacher team. It has been awarded the honorary title of "Good Team for Undertaking" by the Organization Department of Shandong Provincial Party Committee, approved as the "Ideological and Political Demonstration Course Teacher Team of Shandong Province", won 2 first prizes and 1 second prize of Natural Science of Shandong Province and 1 second prize of Science and Technology Progress of Shandong Province, and declared 31 national invention patents.
In order to thoroughly implement the spirit of General Secretary Xi Jinping's important instructions on the advanced deeds of Comrade Huang Danian (Huang Danian is a professor of noble character and high prestige who has contributed a lot to education in China), the Ministry of Education launched the movement of building Huang Danian-style teacher teams in colleges and universities across the country to guide the vast numbers of university teachers and researchers in continuing to learn from Comrade Huang Danian.